In the devastating second wave of Covid-19, when the widespread infection and deaths in Uttarakhand had left the entire Uttarakhand including Dehradun in a shambles. Dr.Vipul Kandwal of Aarogyadham Hospital and the doctors of his hospital, Paramedical, Clinical. And the way other non-clinical staff treated the Covid-19 infected patients, is really commendable.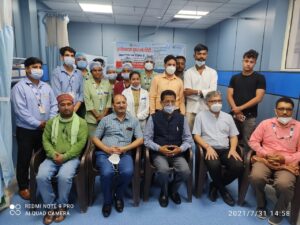 Society should respect and encourage such people, this was stated by Suryakant Dhasmana, Vice President of Uttarakhand Pradesh Congress Committee and President of Devbhoomi Human Resource Development Trust, in his address as the chief guest in the honor program organized by Devbhoomi Trust at Arogyadham Hospital today.
Suryakant Dhasmana said that it is the good fortune of the people of Dehradun and Uttarakhand that a committed team of young doctors and paramedical and clinical staff working under the leadership of the best gastro surgeon and doctor like Dr. Vipul Kandwal has come together with a well-equipped hospital for medical service.
He said that in the second wave of Corona, where many private sector hospitals received many complaints, every person of Aarogyadham Hospital praised the fact that neither patients were misbehaved in the hospital nor any illegitimate money was taken. Shri Dhasmana said that it was his personal experience that every patient he sent to Aarogyadham went home after recovering.
Shri Dhasmana honored 25 other staff of the hospital including doctors, clinical, nursing, paramedical staff by wearing clothes and presenting masks, sanitizers, oximeters, thermometers and nutritious juice kits.
On this occasion, Dr. Vipul Kandwal while expressing his heartfelt thanks to Shri Dhasmana and Devbhoomi Human Resource Development Trust said that he and his team were encouraged by this type of honor and they are also feeling proud with this honor. People are satisfied and happy with the service rendered by the team. He said that such encouragement also motivates them to serve more.
On this occasion, Dr. Vipul Kandwal (Gastro Surgeon) of Arogyadham, Dr. DS Bisht, Dr. Tarun, Dr. Swati Jagotra, Dr. Sanjay Nathani, Dr. Prateek Bahuguna.
Nursing staff Vijay Panuli, Babita R Negi, Vinod Jagudi, Poonam Rauthan, Abhinav Bisht, Aastha Baduni.
Ashok, Kavita, Shiv Kumar of House Keeping.
Ankit Tiwari, Abhishek Baluni, Gaurav Chauhan, Yogesh Sati, Ajay Kumar and Laxmi Kathait of the administration.
Rajesh Maletha, Ram Singh, Mukesh Ale and Sangeeta of the security staff were honored by wearing clothes and giving kits.